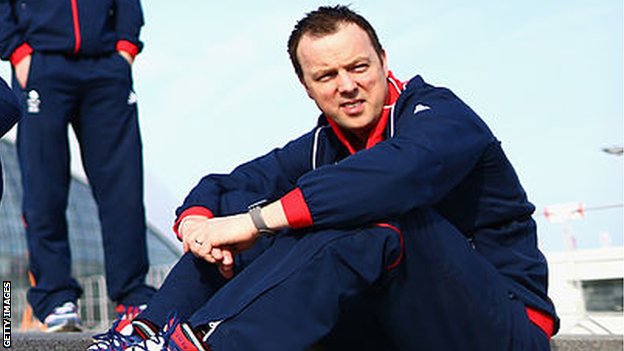 World Men's Curling: Scotland round off failed bid with a win
Scotland rounded off their round-robin matches at the World Men's Curling Championship in Basel with a 6-4 win over Sweden.
However, Tom Brewster's rink had already had their slim hopes of reaching the play-offs dashed with an extra-end 7-6 defeat by Denmark.
Brewster, Hammy McMillan, Ross Paterson and Glen Muirhead won five matches and lost six, finishing seventh.
Hosts Canada, Denmark, Japan and the USA progress to the play-offs.
Brewster said after the win over Sweden: "It's always great to beat a world champion.
"However, we went in there not even thinking about them being world champions but thinking about them being the great team that they are, and knowing that it's always a tough game against them."
Results
Session 1: Sweden 8-5 Japan; Korea 3-9 Scotland; Norway 11-3 Russia; Germany 2-8 Switzerland
Session 2: Russia 9-8 Korea; USA 1-7 Denmark; Canada 7-3 Finland; Norway 3-6 Scotland
Session 3: Switzerland 5-9 Sweden, Germany 3-8 Japan
Session 4: Denmark 8-11 Canada, Scotland 6-9 Russia, Korea 6-9 Norway, USA 7-5 Finland
Session 5: Japan 9-6 Switzerland, Canada 10-9 USA, Finland 2-9 Denmark, Sweden 8-4 Germany
Session 6: Germany 2-8 Norway, Switzerland 12-4 Korea, Sweden 4-3 Russia, Japan 6-5 Scotland
Session 7: Korea 4-6 Finland, Norway 8-6 Denmark, Scotland 3-5 Canada, Russia 6-9 USA
Session 8: USA 8-3 Sweden, Canada 9-2 Japan, Denmark 9-1 Germany, Finland 12-6 Switzerland
Session 9: Denmark 7-5 Japan, Finland 8-6 Sweden, USA 9-7 Switzerland, Canada 6-3 Germany
Session 10: Switzerland 5-4 Scotland, Germany 7-2 Russia, Japan 6-3 Korea, Sweden 4-6 Norway
Session 11: Russia 2-7 Canada, Scotland 7-9 USA, Norway 7-5 Finland, Korea 8-5 Denmark
Session 12: Norway 3-8 USA, Korea 2-9 Canada, Russia 1-9 Denmark, Scotland 7-3 Finland
Session 13: Finland 9-1 Germany, Denmark 7-6 Switzerland, Canada 3-4 Sweden, USA 7-8 Japan
Session 14: Sweden 7-4 Korea, Japan 6-4 Norway, Germany 6-7 Scotland, Switzerland 6-3 Russia
Session 15: Scotland 6-7 Denmark, Russia 3-9 Finland, Korea 6-8 USA, Norway 4-6 Canada
Session 16: Japan 7-2 Russia, Sweden 4-6 Scotland, Switzerland 4-7 Norway, Germany 6-9 Korea
Session 17: Canada 8-2 Switzerland, USA 6-5 Germany, Finland 5-7 Japan, Denmark 8-7 Sweden
Standings
Canada 10-1 (Q)
Denmark 8-3 (Q)
Japan 8-3 (Q)
USA 8-3 (Q)
Norway 7-4
Sweden 6-5
Scotland 5-6
Finland 5-6
Switzerland 4-7
Russia 2-9
Korea 2-9
Germany 1-10