Bryony Page and Kat Driscoll secure Britain two places in the women's trampoline event for Rio next summer.
Hamburg says no to 2024 Olympics
Residents of the German city of Hamburg vote against hosting the 2024 Olympic and Paralympic Games in a referendum.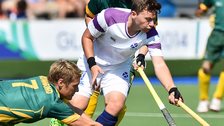 Players get chance to press Rio claim
Great Britain hockey boss Bobby Crutchley says fringe players can use the World League Final to boost their 2016 Olympic chances.